Fab Friday 120 – My Favorite Things Mini Modern Blooms
This week we have a color challenge:
I got a late start on this, so I decided to keep things to a minimum amount of materials and effort. No coloring, not many layers, and to use ink for most of the details. So I wanted a stamp set that was not line art so I grabbed MFT's Mini Modern Blooms. I had been looking at Pinterest earlier today and had an idea in my head from different cards I saw. Lookie:
GOJUS! This turned out almost exactly like I planned!
I grabbed the Stampin' Up! pads for these colors. I love the new Lemon Lime Twist so I decided to create a soft haze using a sponge first. I then stamped layers of leaves in the same color. I then stamped all the flowers with the Peekaboo Peach with Tangerine Tango and Tranquil Tide centers.
I feel that Tranquil Tide is a really strong color, so I stamped off for the spangle shapes and sprinkled some of the ink diluted over the top.
Tranquil Tide does make a great, crisp greeting with Label Maker Sentiments from MFT. I decided to change out the ink color for the word Happy because orange is a happy color!
This was fun!
Below is my list of products that I used, and I have used compensated affiliate links where they were available, as I now participate in affiliate programs for Simon Says Stamp, Amazon, Ellen Hutson LLC, Scrapbook.com, Gina K, Sizzix, and Blick Art Supplies. Stampin' Up! links lead to my BFF Wendy Weixler's store, whose friendship is something I highly value, and I'm always happy to throw business her way. She does not reimburse me for doing so. If you have your own demo, you can of course change over to them. Buying through these links costs you nothing extra and helps support my blog and my artistic endeavors, and I thank you.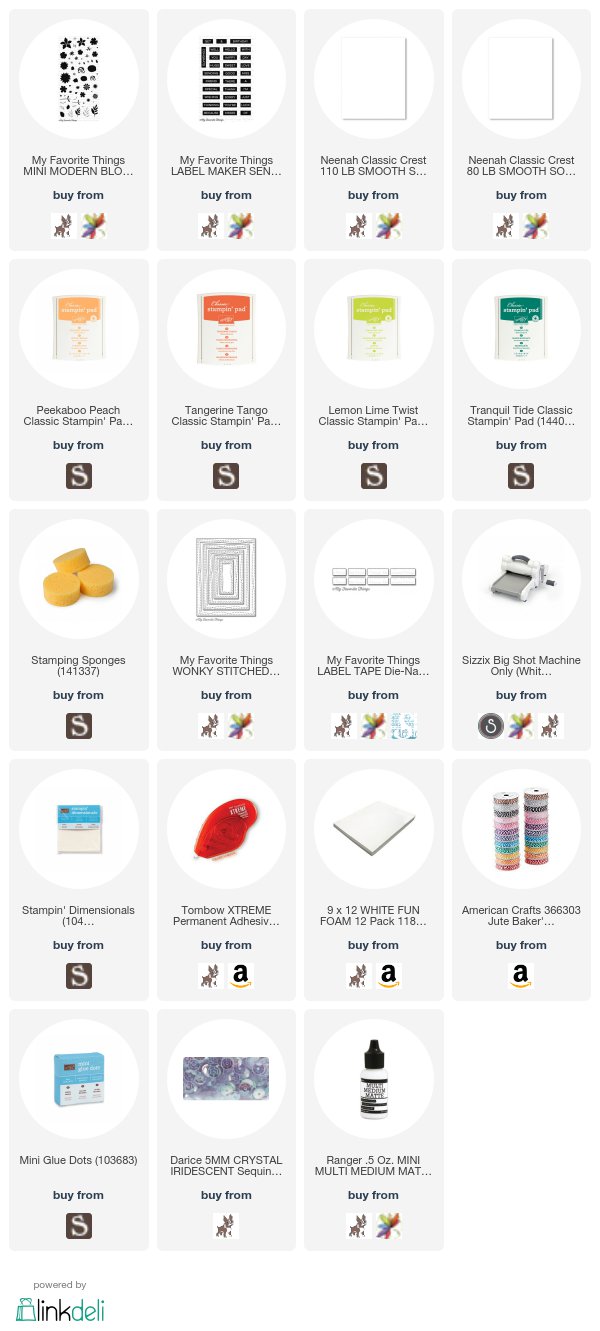 You'll be able to see all of the Fab Friday team's creations and post one of your own by visiting the Fab Friday blog. You can also visit the other DT members' blogs and see what they've done with this challenge:
Brian King
Amanda Mertz
Brenda Myers
Wendy Weixler
Enjoy! Ta!
---
---