Paper Crafts Crew 269 – Altenew Winter Rose
Welcome back to the Paper Crafts Crew Challenge! This week we have a theme challenge:
I decided, partly because I don't really have any "vintage" sets, at least not new ones, that vintage did not need to be something Victorian looking. Instead, I chose 1950s vintage because I had just got my early Christmas present, a complete set of Altenew's ink cubes and a couple of their stamp sets, including Winter Rose, which would make for a great 1950s vintage look.
I went looking online for some color inspiration and found this great fabric image.
I remember these types of fabrics from my grandmother's house and from things my mom had in her cedar chest. I love the colors! So I went with them. Lookie:
GOJUS! Lately, I have been binge watching Project Runway. I have learned SO MUCH from the design process of the designers on Project Runway. I've learned that it's important to keep your designs modern when using inspiration from the past, so that's what I did here. I used the colors from the vintage fabric above, but I kept them fresh and clean and slipped a little bit of my latest obsession in there.
I used an assortment of my new Altenew ink colors to create these beautiful multi-step stamped roses.  I really like these inks! They level beautifully once they dry and have rich, saturated colors. I also love how you get a complete set of inks that work for multi-step stamping in each set of cubes.
For the mat under the main image, I decided to echo the colors in the scroll work around the rose images on the fabric, so I stamped the leaves and rosebuds around the outside with Limestone ink.
A couple of Doodlebug Sprinkles in the corner and some of my favorite Sakura Stardust pen added to the word "Kindness" really helped finish things nicely. I love the gleam of that mirror card stock too!
I was so pleased with the result! I think my grandmother would LOVE this card!
You can play along with our challenge by clicking on this link.
Below is my list of products that I used, and I have used compensated affiliate links where they were available, as I now participate in affiliate programs for Simon Says Stamp, Amazon, Ellen Hutson LLC, Scrapbook.com, Gina K, Sizzix, and Blick Art Supplies. Stampin' Up! links go to my BFF Wendy Weixler's store, who does not pay me except in eternal friendship, but you can change to your favorite demonstrator if you prefer. Buying through these links costs you nothing extra and helps support my blog and my artistic endeavors, and I thank you.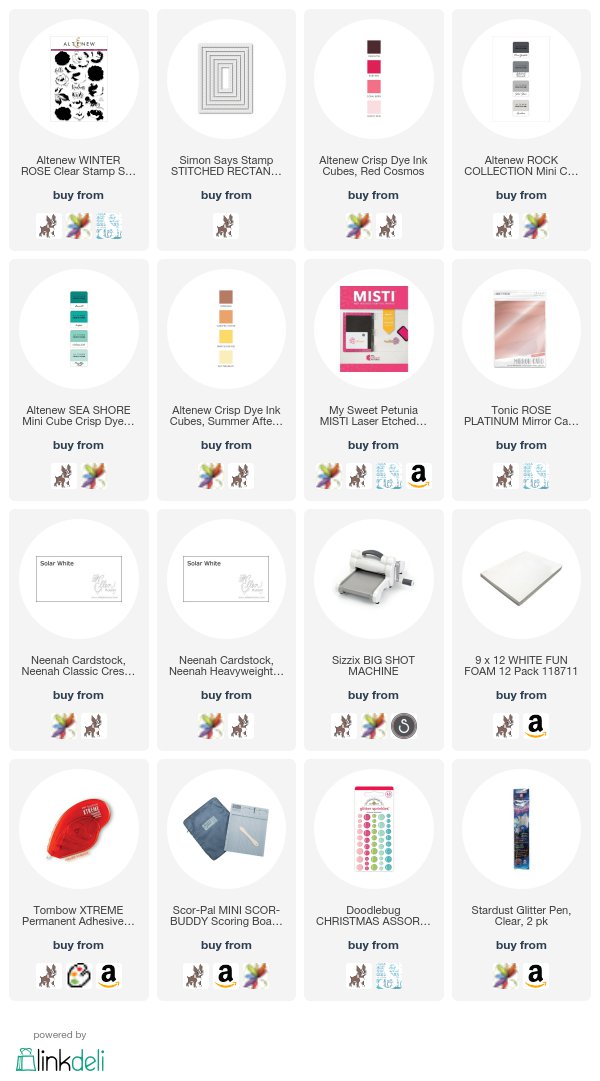 Enjoy! Ta!

---
---